We all know that time is precious, but how do we make the most out of every moment?
In Japan this has been elevated to an art form – a taxi driver salutes you with a white-gloved hand, tea is poured with loving precision, a shopkeeper's perfectly wrapped parcel is presented with the same care whether it is a diamond bracelet or a loaf of bread. Every action is treated as hugely important because the passing of time is not seen as a mundane, but as the graceful unfolding of nature. Grand Seiko was created as the ultimate celebration of the idea that time is beautiful.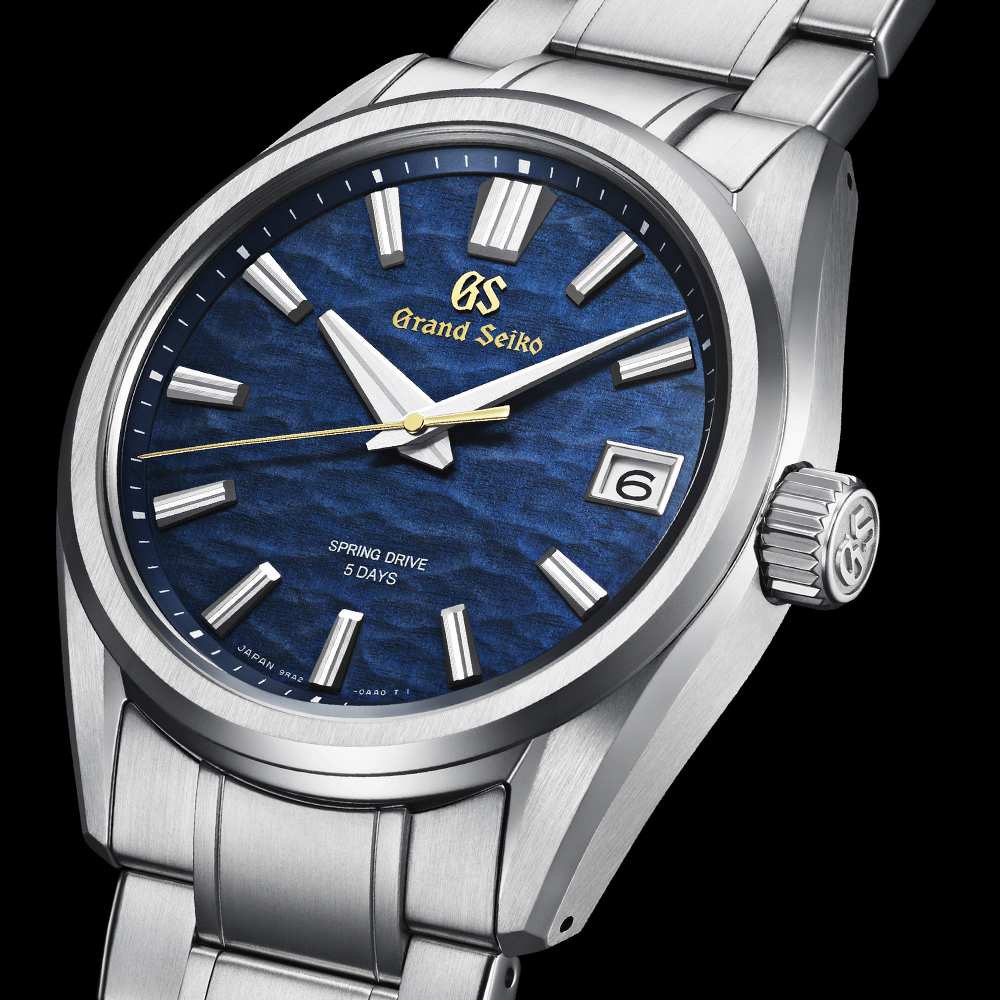 Founded in 1960, Grand Seiko set out with a goal that was simple yet incredibly ambitious: to make the most accurate and durable watches in the world with a beauty rivalling the landscapes that influenced them. Exclusively handmade in Japan by elite craftsmen and women, the "king of watches" – echoing Grand Seiko's aim to be king of the watch world –  is symbolised by a lion emblem on every case back. Grand Seiko set new standards for mechanical and quartz movements, but also pioneered the Spring Drive, an ingenious system that combines the engineering appeal of a mechanical watch with the accuracy of quartz.
Time And Nature in Perfect Harmony
This limited edition timepiece is a great example of how Grand Seiko has used the natural world for inspiration. The SLGA007G Spring Drive takes its inspiration from Lake Suwa, the beautiful body of water surrounded by mountains and hot springs in Japan's central Nagano prefecture, close to the Shinshu studio where Spring Drive movements are made. The pattern on the blue dial represents gentle ripples across the peaceful lake and this serenity is matched by the ultra-smooth glide of the second hand, a feature much loved by Spring Drive aficionados.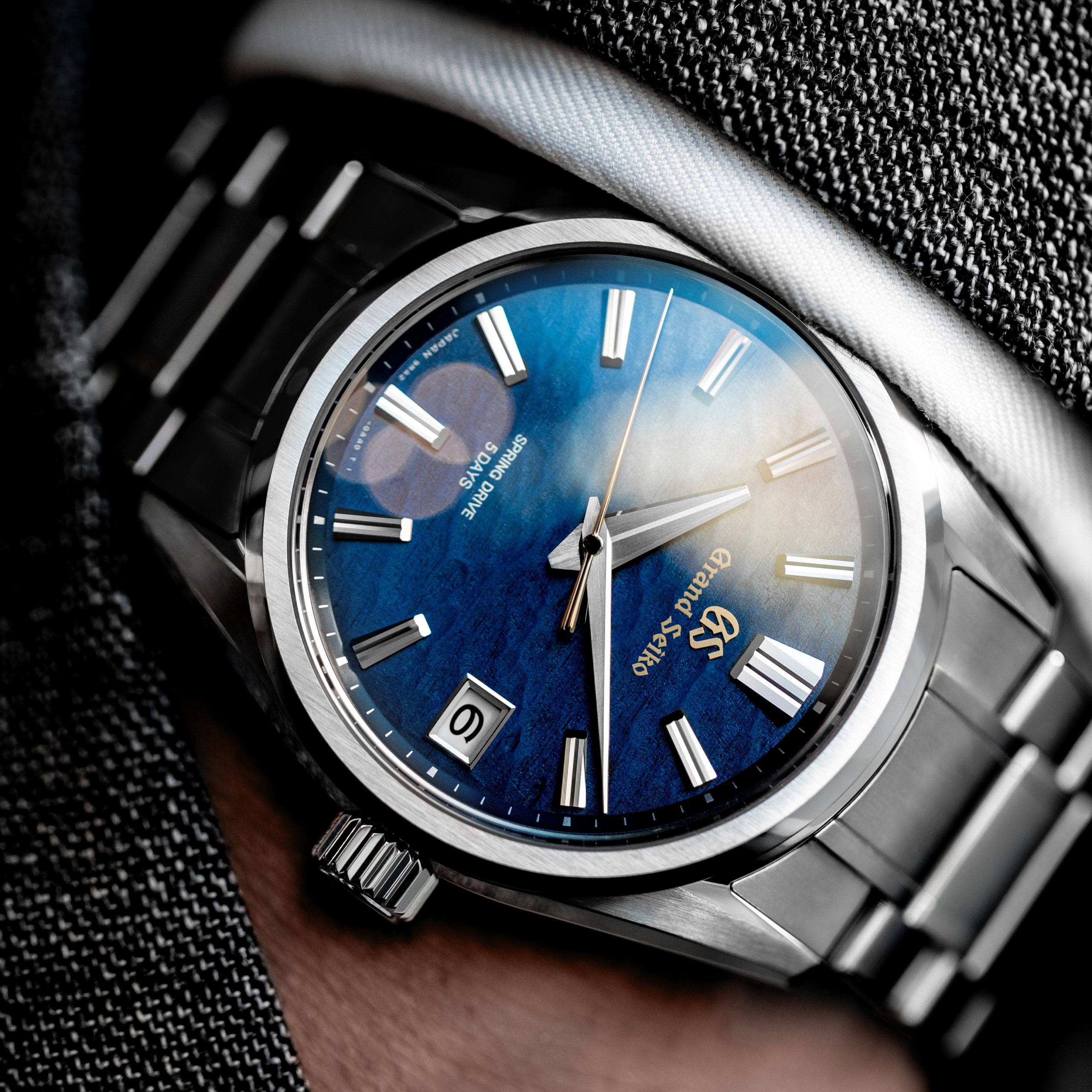 Quintessentially Grand Seiko
The watch's design is true to the Grand Seiko Style defined back in 1967 with the celebrated 44GS but its heritage is combined with a contemporary feel that perfectly expresses the quiet but strong character of Grand Seiko.
Its powerful hands and grooved, prominent markers ensure perfect legibility. The Zaratsu polished, distortion-free mirror finish and delicate hairline finish alternate, giving the case a quiet and harmonious glow. The case has wide lugs and a low centre of gravity that ensures that the watch sits easily and securely on the wrist.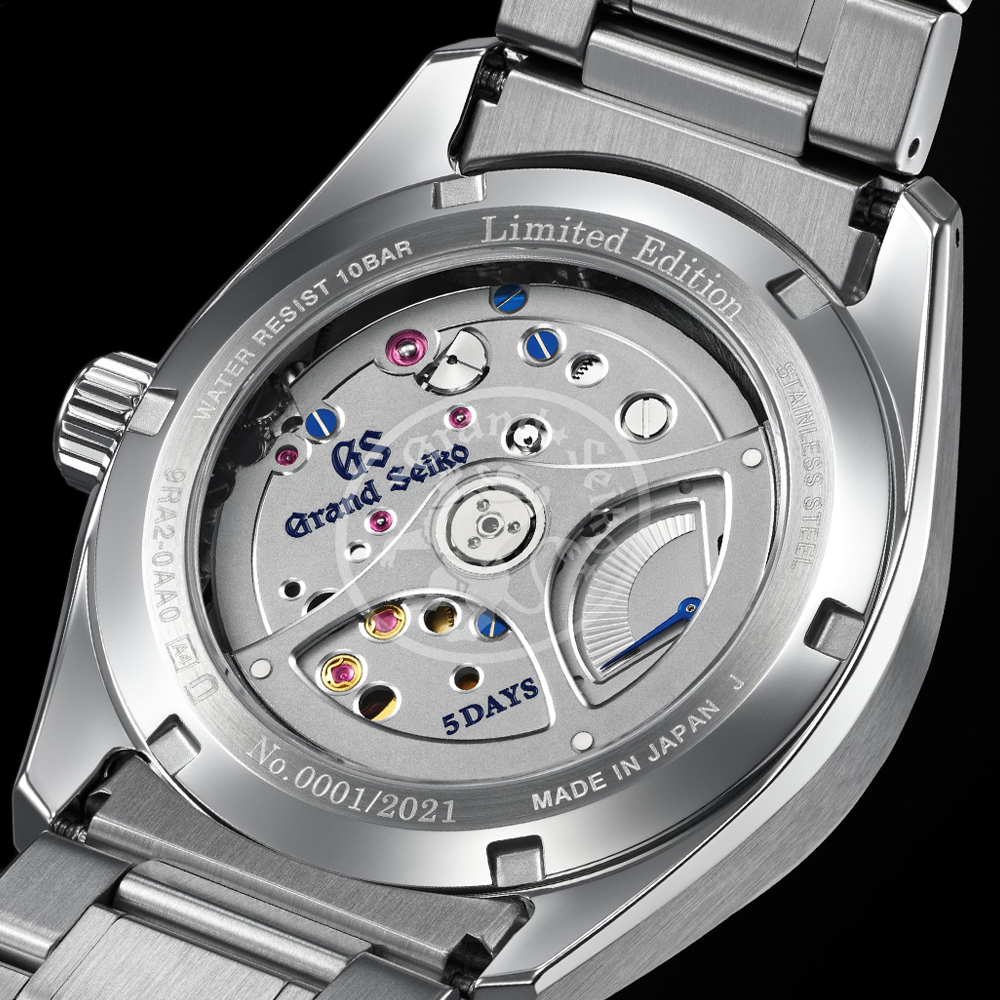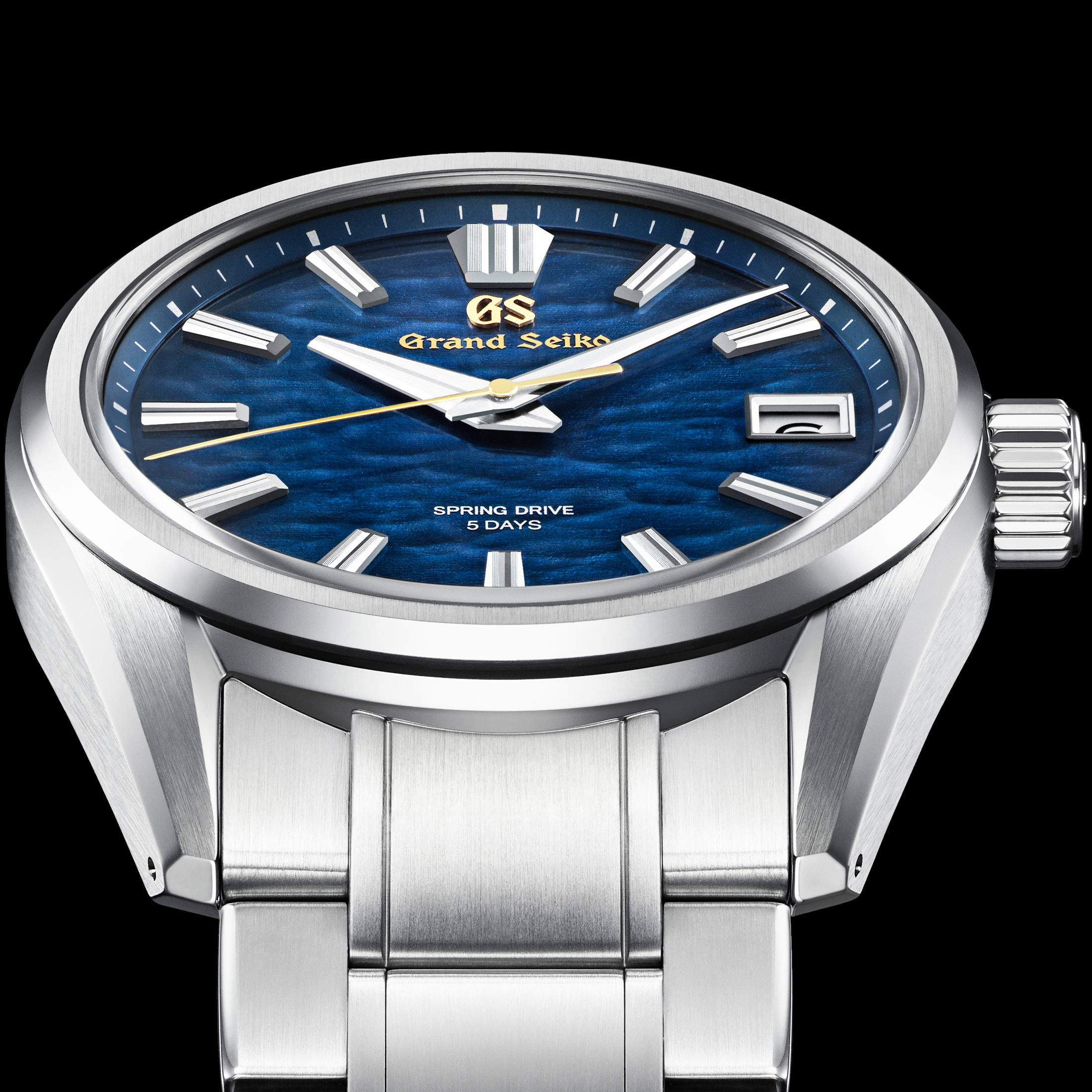 Powered by the Spring Drive Calibre 9RA2
This timepiece is powered by the iconic Spring Drive movement that generates energy like a traditional mechanical watch but combines this with an electronic regulator to deliver a level of precision that no mechanical watch can match. The signature of Spring Drive is the glide motion of its second hand. The hand does not move with either the one-second tick of a quartz watch nor the rapid beat of a mechanical watch, but rather in a silent and beautiful glide motion.
Now relaunched, revamped and redesigned: the next generation Calibre 9RA2 offers a new perspective on perfection which reflects the original Grand Seiko design principles of accuracy, legibility and beauty.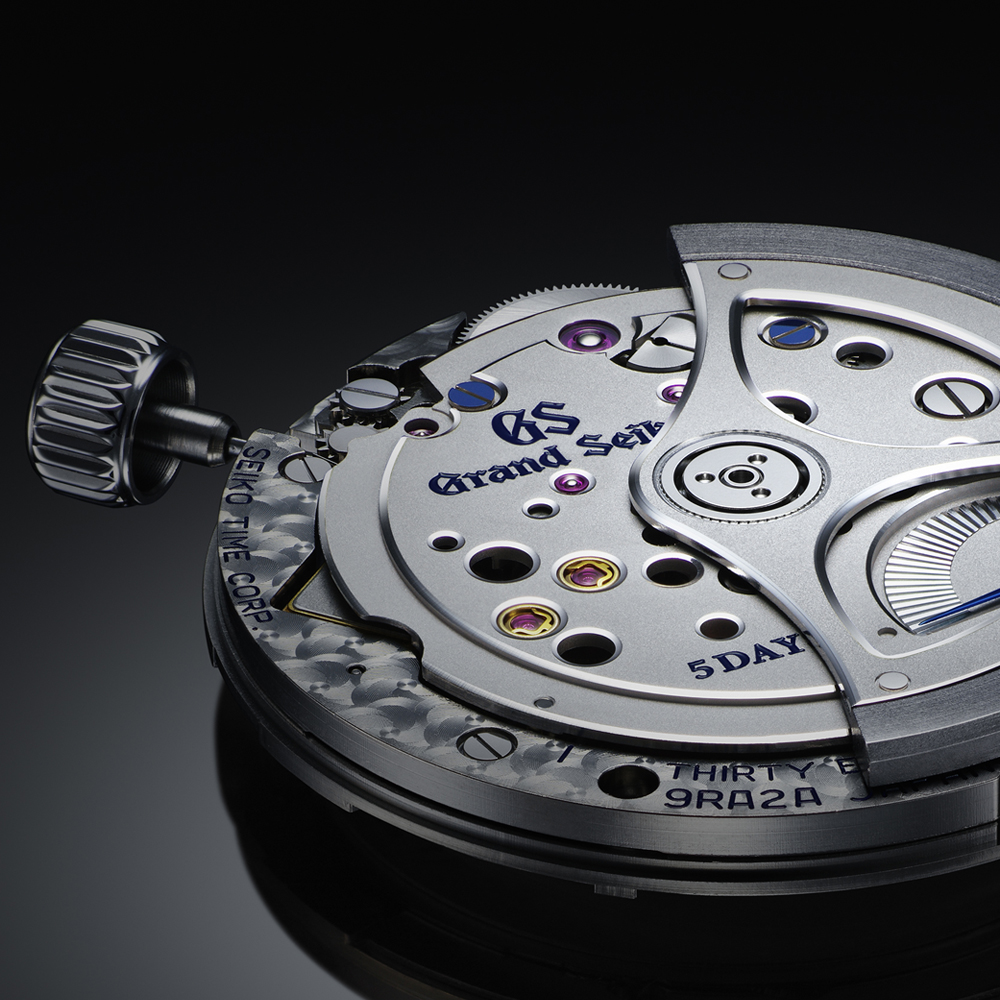 Slimmer, even more precise and more powerful with an impressive power reserve of 120 hours and even greater accuracy of -/+10 seconds per month, the Calibre 9RA2 marks a new beginning.
Slimness is achieved with an Offset Magic Lever that reduces the movement's depth by 0.8mm compared to our core 9R range. The 120h power reserve is achieved thanks to Dual-size Barrels arranged to allow for expanded capacity in a smaller space while the One-piece Centre Bridge guarantees the movement's strength, durability and shock resistance.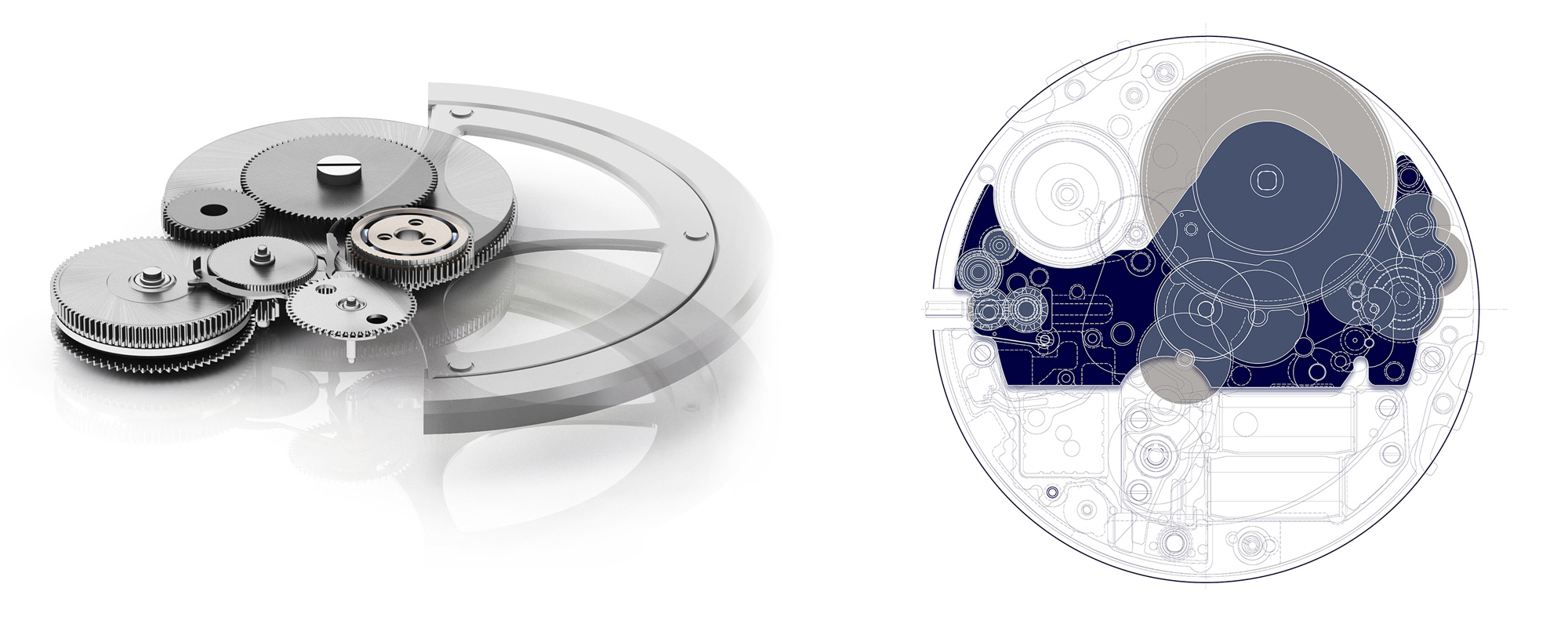 This limited edition timepiece is handmade to the highest standards in the world. But it is more than a way of simply telling the time. It is a beautiful reminder that every moment is there to be enjoyed, not wasted. Speaking of not wasting time, these watches are made in strictly limited numbers – if previous Grand Seiko limited editions are anything to go by, they may not be around for very long…
---
SPECIFICATIONS
Case: Stainless steel
Dimensions: 40mm in diameter x 11.8mm in thickness x 22mm lug width
Movement: 9RA2 Spring Drive
Availability: Limited edition of 2,021 watches; available at Grand Seiko Boutiques and select Grand Seiko retailers worldwide in December 2021.